Louis Armstrong
Louis Armstrong was for many the greatest of all jazz musicians. Armstrong defined what it meant to play jazz. His amazing technical skills, the joy and spontaneity of his music, and his amazingly quick, inventive mind still influence jazz today.
Like almost all early Jazz musicians, Louis was from New Orleans. In 1919 he left New Orleans for the first time to join Fate Marable Band band in St. Louis. 
When King Oliver left the city in 1919 to go to Chicago, Louis took his place in Kid Ory's band from time to time. In 1922 Louis received a telegram from his mentor Joe Oliver, asking him to join his Creole Jazz Band at Lincoln Gardens (459 East 31st Street) in Chicago.
While playing in Oliver's Creole Jazz Band, Armstrong met Lillian Hardin, a piano player and arranger for the band. In February of 1924, they were married. 
He moved to New York to play in Fletcher Henderson's Orchestra for 13 months.
In 1925 Armstrong recorded his first Hot Five records. This was the first time that Armstrong had made records under his own name. The records made by Louis Armstrong's Hot Five and Hot Seven are considered absolute jazz classics and the peak of Armstrong's creative powers. The band never played live, but continued recording until 1928.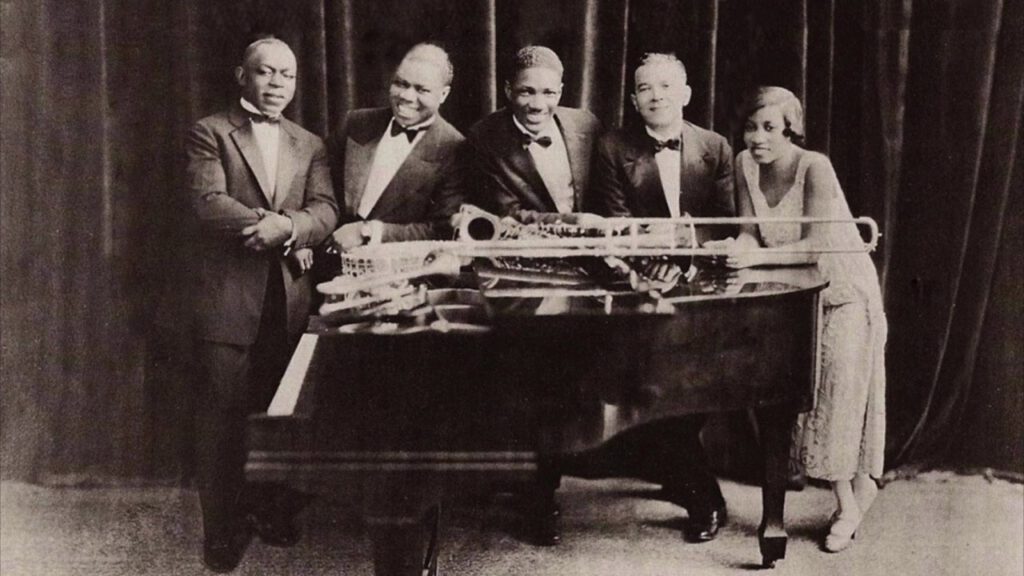 By 1929 Louis was becoming a very big star. Armstrong moved to Los Angeles in 1930 where he fronted a band called Louis Armstrong and his New Cotton Club Orchestra. In 1931 he returned to Chicago and assembled his own band for touring purposes. In June of that year, he returned to New Orleans for the first time since he left in 1922 to join King Oliver's Creole Jazz Band.
Armstrong was greeted as a hero, but racism marred his return when a White radio announcer refused to mention Armstrong on the air and a free concert that Louis was going to give to the cities' African-American population was cancelled at the last minute. Louis and Lil also separated in 1931.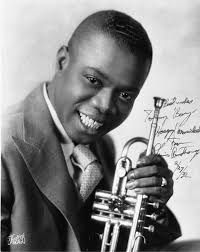 In 1932 he returned to California, before leaving for England where he was a great success. For the next three years, Armstrong was almost always on the road. He crisscrossed the U.S. dozens of times and returned to Europe playing in Denmark, Sweden, Norway, Holland and England. In 1935 he returned to the U.S. and hired Joe Glaser to be his manager.
Glaser took care of the business end of things, leaving Armstrong free to concentrate on his music. He also hired the Luis Russell Orchestra as Louis' backup band with Russell as the musical director. The band was renamed Louis Armstrong and his Orchestra and was one of the most popular acts of the Swing era. Glaser put the band to work and they toured constantly for the next ten years. During this period Armstrong became one of the most famous men in America.
For the following nine years, the Louis Armstrong Orchestra continued to tour and release records.
In 1947 Glaser fired the orchestra and replaced them with a small group that became one of the greatest and most popular bands in Jazz history. The group was called the Louis Armstrong Allstars and over the years featured exceptional musicians.
The band went through several personnel changes over the years but remained extremely popular worldwide. They toured extensively travelling to Africa, Asia, Europe and South America for the next twenty years until Louis' failing health caused them to disband. Armstrong became known as America's Ambassador.
In 1963 Armstrong scored a huge international hit with his version of "Hello Dolly". This number-one single even knocked the Beatles off the top of the charts. In 1968 he recorded another number-one hit with the touchingly optimistic "What A Wonderful World". Armstrong's health began to fail him and he was hospitalized several times over the remaining three years of his life, but he continued playing and recording. On July 6th 1971 the world's greatest Jazz musician died in his sleep at his home in Queens, New York.
These transcriptions are available to download for free for the website members. We appreciate a donation if you can afford it. Thank you!