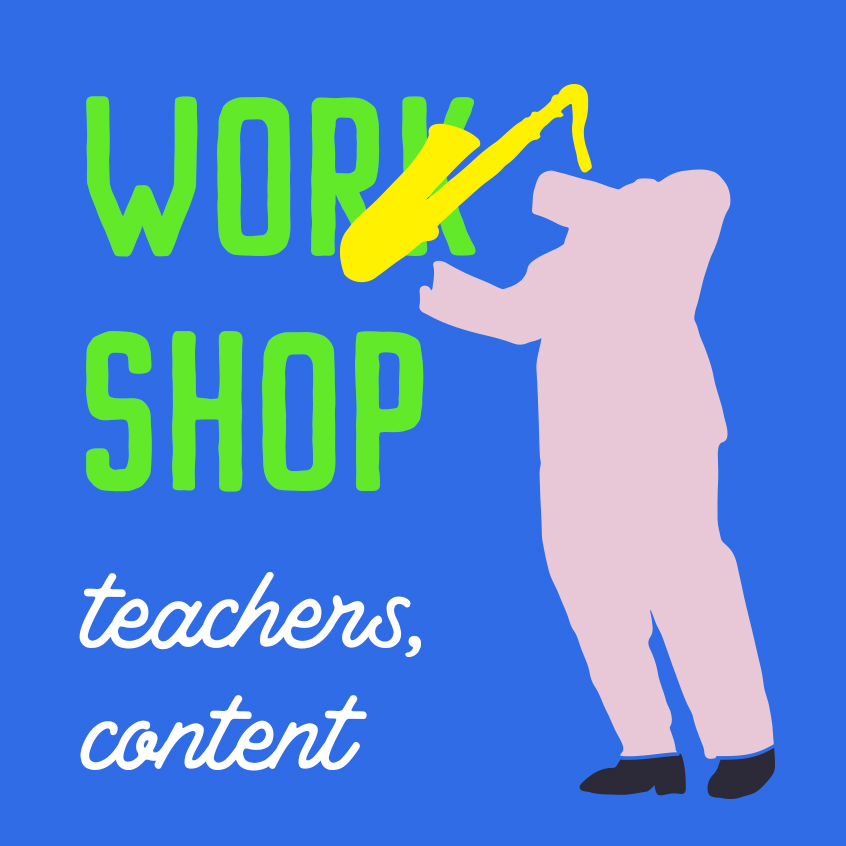 Offer for BANDS
You can also come as a group to gain a collective insight on playing together as a front line, a rhythm section, band dynamics, etc. Please write at registration@syncopation.de with relevant infos about your project so we can find a good fit for you and give you a price quote.
ARE YOU SYNCOPATED?! Sept 29.–Oct 2. 2022
We are excited to invite you to an immersive experience to boost your playing with music sessions about different styles found in early jazz, but also that particular approach to collective improvisation, expression, attitude, and more.
These three days of workshops will be led by professional musicians actively playing this music. It will be very hands-on with an emphasis on active listening, awareness and reactivity. Participants will be split in two different bands (up to 10 musicians each) with 9 hours of classes. There will be band practice and theoretical classes on music theory and history.
But practice needs to be applied! participants can jump on the band stand during the jam sessions with musicians and international guests every night, and there will be a final spotlight on Sunday during the Jam Cats Night.
Selection
Every musician is welcome to join the workshop regardless of level. What matters the most is your intention and willingness to learn this particular style of jazz that we love so much. Therefore, we ask you to tell us a bit about yourself as you register.
After selection, the teachers will curate a repertoire of 3 to 5 tunes for the two bands. Participants will receive the music material with charts and audio recordings to prepare the sessions.
Instruments
The instrumentation for each band comprises a rhythm section and a front-line. Standard rhythm section instruments include drums, washboard, piano or accordion, banjo, acoustic or semi-acoustic guitar, bass, tuba. A front line includes brass and reed instruments, but can also include strings, or even something different. We will create the two bands based on participants' profile and relevance in the band instrumentation. So don't wait if you're a bass player or drummer!
Teachers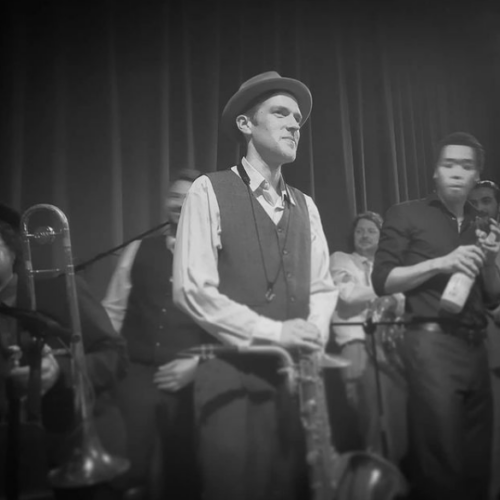 Laurin Habert plays clarinet and saxophones and is specialized in old style jazz, ragtime and blues. Based in Berlin since 2008 he's been on tour with internationally celebrated bands like "Frog&Henry", "Old Fish Jazz Band" and "The Ragtime Nightmare" all over Europe, Caribbeans and the U.S.A. Through the years he has collected songs from piano rolls, jug bands, string & brass bands, beguine and early American dance bands. He regularly teaches in Berlin.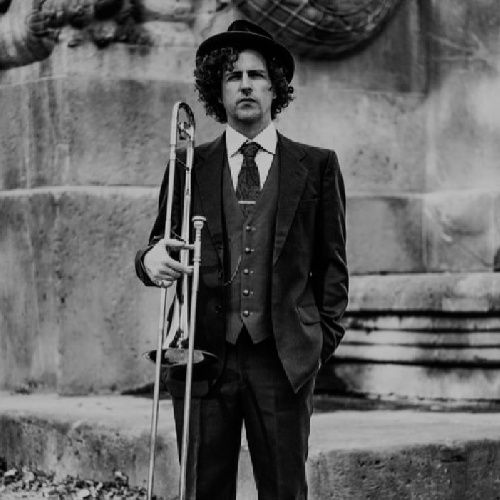 Carlos Santana is a versatile musician hailing from southern Spain and based in Berlin since 2007. Former member of numerous bands of the Berlin hot jazz scene, he has spent the last 15 years playing all around Europe and the U.S.A. with international formations such as "Old Fish Jazz Band" or the "California Feetwarmers". Specialized on both tailbone trombone and stride piano à la New Orleans, he can bring a lot to the game and help through a long experience as a performing artist, arranger, and a patient teacher.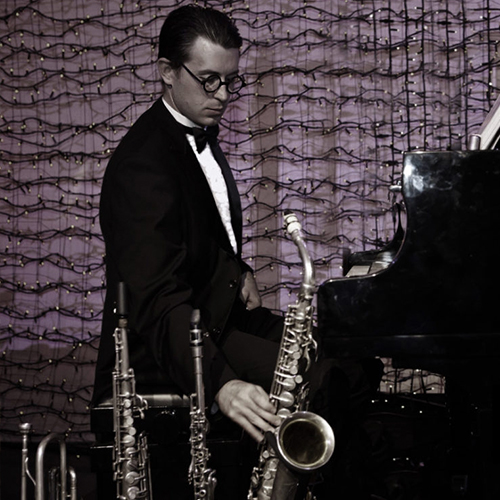 Awarded with a grammy award for his musical scoring, Mauro L. Porro is a passionate multi-instrumentalist and arranger who dedicates his life to early jazz. He has always been universally recognized as an institution in the national jazz music sector from 1920 to 1940. Some of his ensembles include the "Milano Jazz Gang", "Chicago Stompers" and the "Hot Gravel Eskimos". He will give a lecture during the workshops and perform as well (time tba).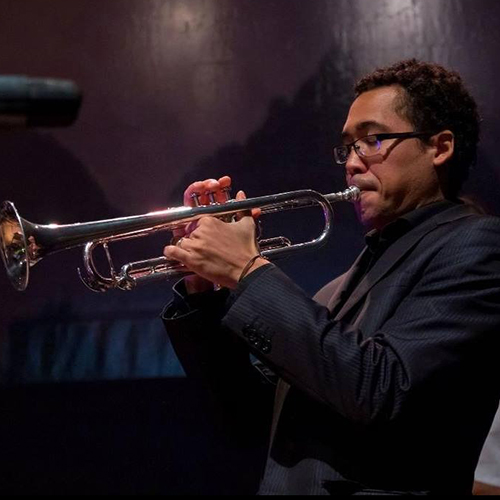 Laurent Humeau is a French multi-instrumentalist based in Berlin who has been playing swing music for 15 years.
As a guitarist, clarinettist, and trumpeter, he is a member of several bands in a variety of styles, from balkan pop, to gipsy jazz, traditional jazz, and 30's swing. The ability to play with anyone, to sit in on a gig and navigate chord changes by ear is a crucial skill for any musician, and will be the focus of his class.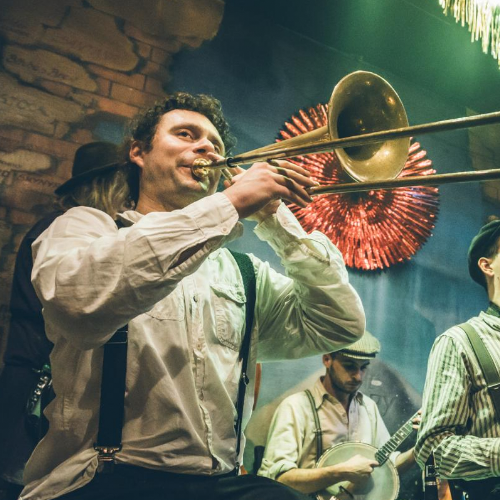 Anton Wunderlich began playing old time jazz as a guitar player in several international projects but quickly switched to trombone. During his studies at the Music Conservatory in Weimar, he founded the "Time Rag Department" which became a founding stone of the Berlin early jazz scene. Besides performing as pianist, trombonist, and singer, Anton teaches individual students, arranges for large and small ensembles, and leads band workshops.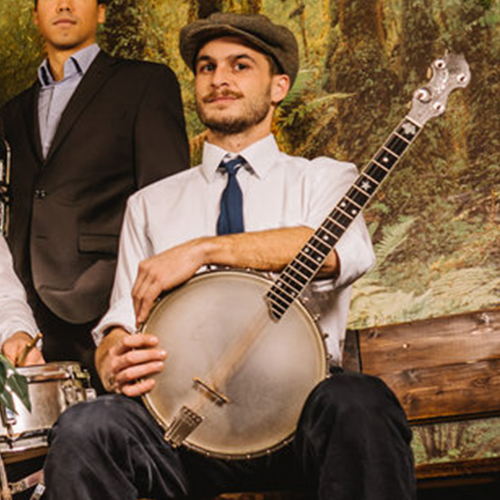 Quentin aka Bardi was born in Toulouse 28 years ago and started playing banjo in 2012 during a trip to the U.S.A. He specializes in early 20th century music with a focus on traditional jazz and the biguine of the French Antilles. After numerous travels and musical tours around the globe, including two Atlantic crossings by sail, Bardi now lives between France and Berlin, working full time as a musician in dance music orchestras of the 20s and 30s. He can be heard playing the tenor banjo, the mandolin or the tenor resonator guitar.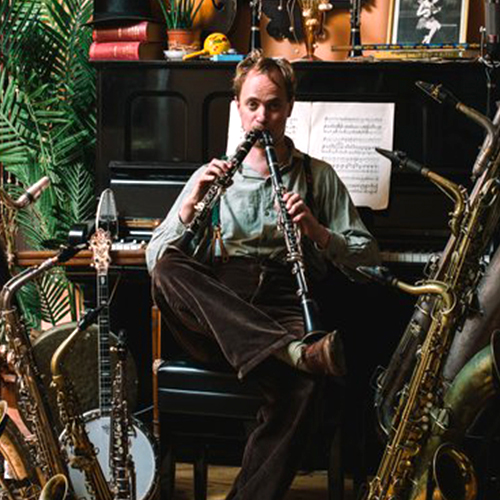 Ewan Bleach stands out in the scene with one of the most sensitive sound on saxophone and clarinet. He led the "Cable Street Rag Band" in London and is also involved with international projects including "Frog&Henry" and the New Orleans band "Tuba Skinny", which he has spent time with in the states. He is particularly interested in playing for dancing and has run many nights focusing on live music for dancing in London. His last album was critically acclaimed and he will share some of his knowledge in a special spot during the workshops (time tba).
Registration
Pricing
Basic price – 270,00€
Minimal price – 210,00€
Solidarity price – 320,00€
You need to buy the workshop pass to attend, which also includes the parties, jam sessions, and concerts. Just like the regular pass we have a sliding scale of prices according to your financial situation.
To purchase the pass please send an email to registration@syncopation.de with the following information:
1 – Full name and address.
2 – Tell us a bit about you and why you want to do the workshop.
3 – Specify which instrument(s) you're going to play.
4 – Send a short demo of your playing (audio or video).
We have limited space so the sooner you register, the better your chances to get in. We will let you know if we have a spot for you as soon as possible via email. Once you're cleared to participate we will send you different options to complete the payment and a confirmation of participation. By registering for the workshop pass you thereby agree to our terms and conditions including our code of conduct.
This festival is part of the project Swinging Europe. Co-funded by the Creative Europe Programme of the European Commission.